Well, what a lovely little place Isles des Saintes turns out to be. (part of Guadeloupe)We arrived on Saturday at the main island Terre d'en Hout to find that all the buoys in Bourg des Saintes harbour were taken. We went round one bay to Marigot and anchored there. As it turned out it was a great outcome as the little village was great and only a short but hilly walk to the main town. All very French and interesting. Loads of cafes, bars, restaurants and really chic little boutiques. We rather lazily hired a golf buggy for the day – there being very few cars on the island, mostly scooters and buggies. So we zoomed off to see Fort Napoleon past all the hot bothered walkers slogging up the hill. Then zoomed off to see a few beaches, then zoomed off to lunch only to find that we had just about done the whole island by 11.30! So it then seemed that the only thing to do would be to have a 2 1/2 hour lunch – which we did. We got the buggy back safely at 5pm and walked back to our bay.
We got some good exercise swimming and walking. I've worked out that a lap around the boat is the equivalent of a good pool length (25x25x42x42) so that is my daily goal now, increasing a lap a day. It helps negate the floating under the boat in the shade on our noodles drinking wine.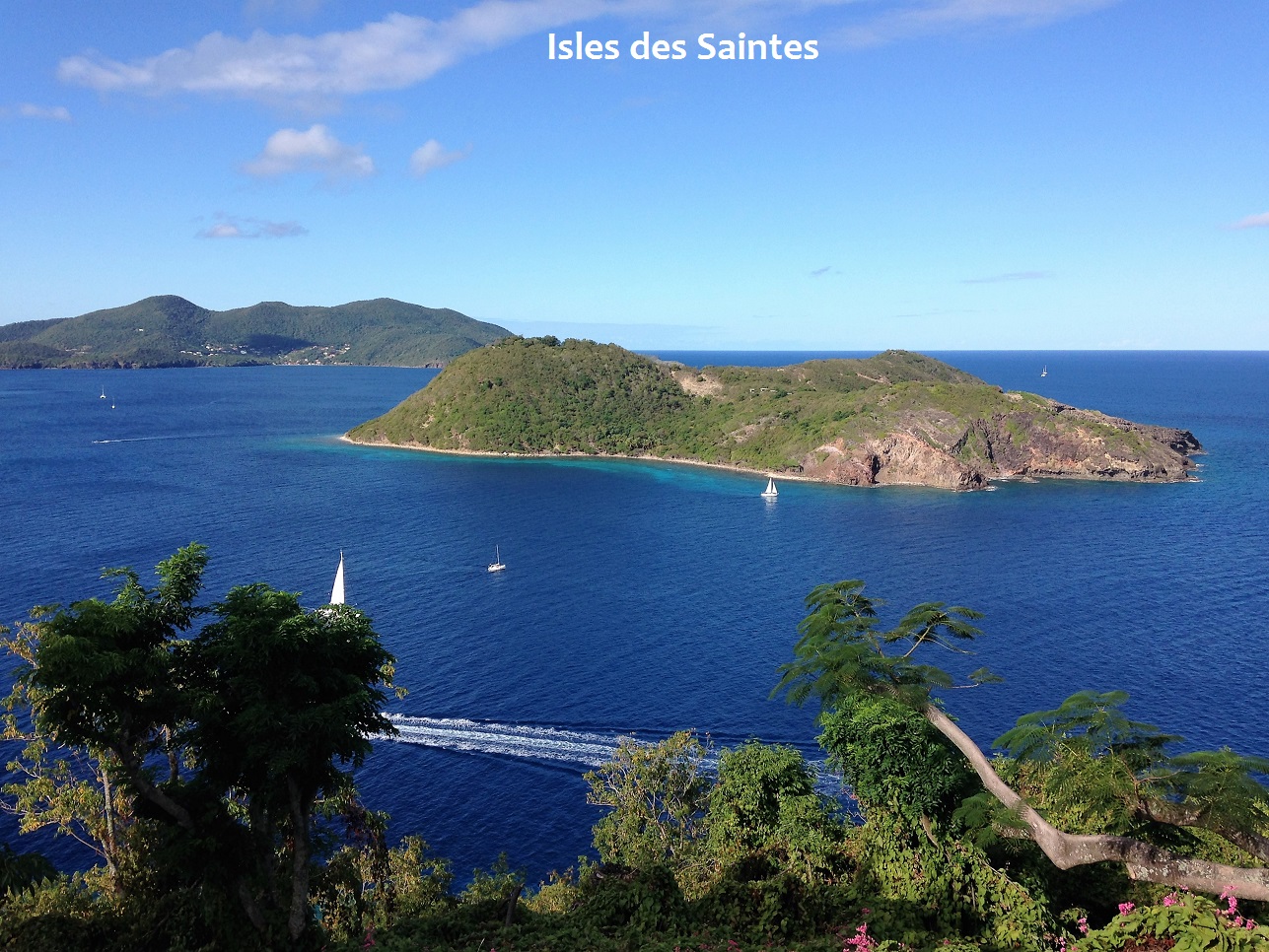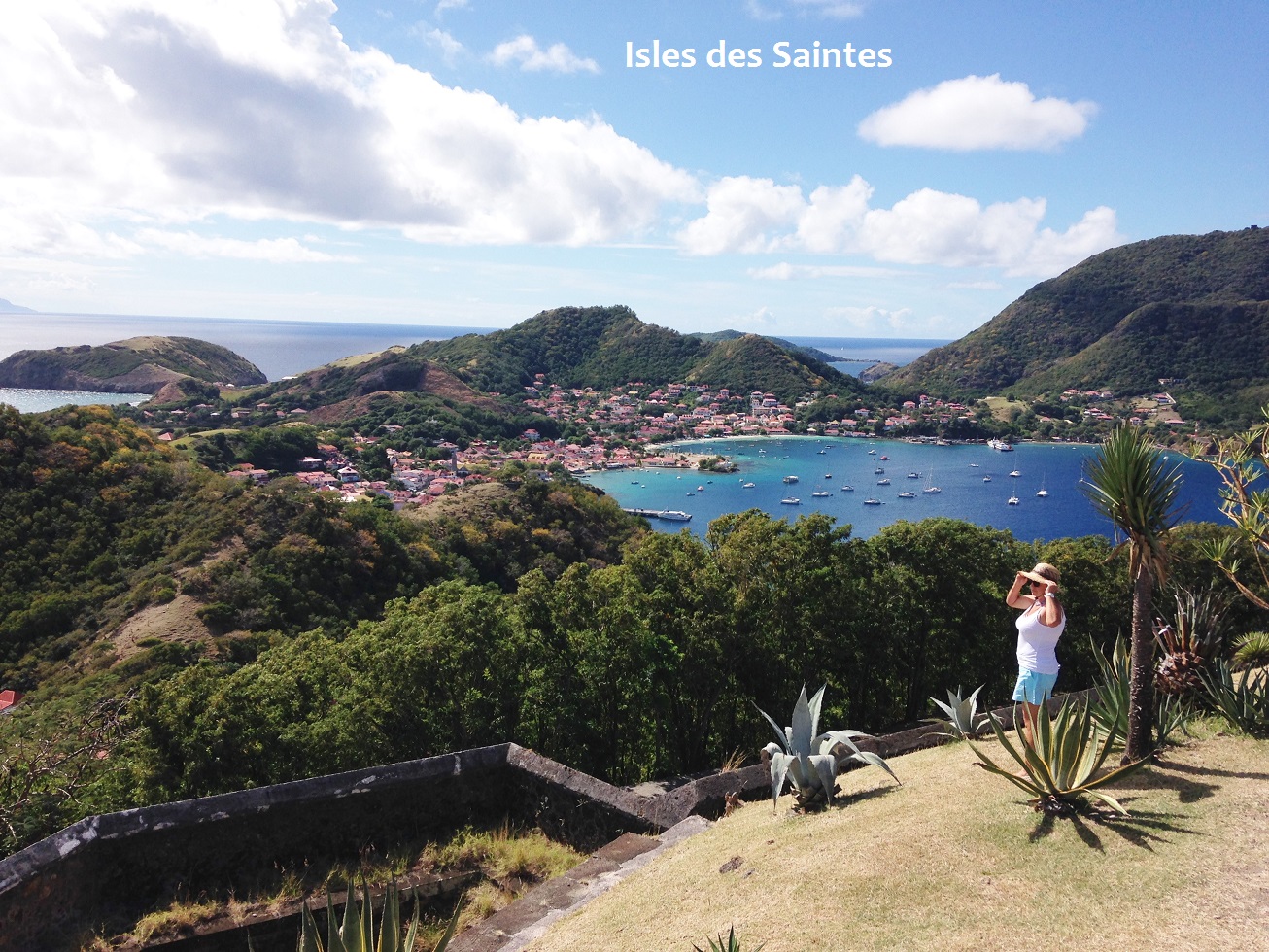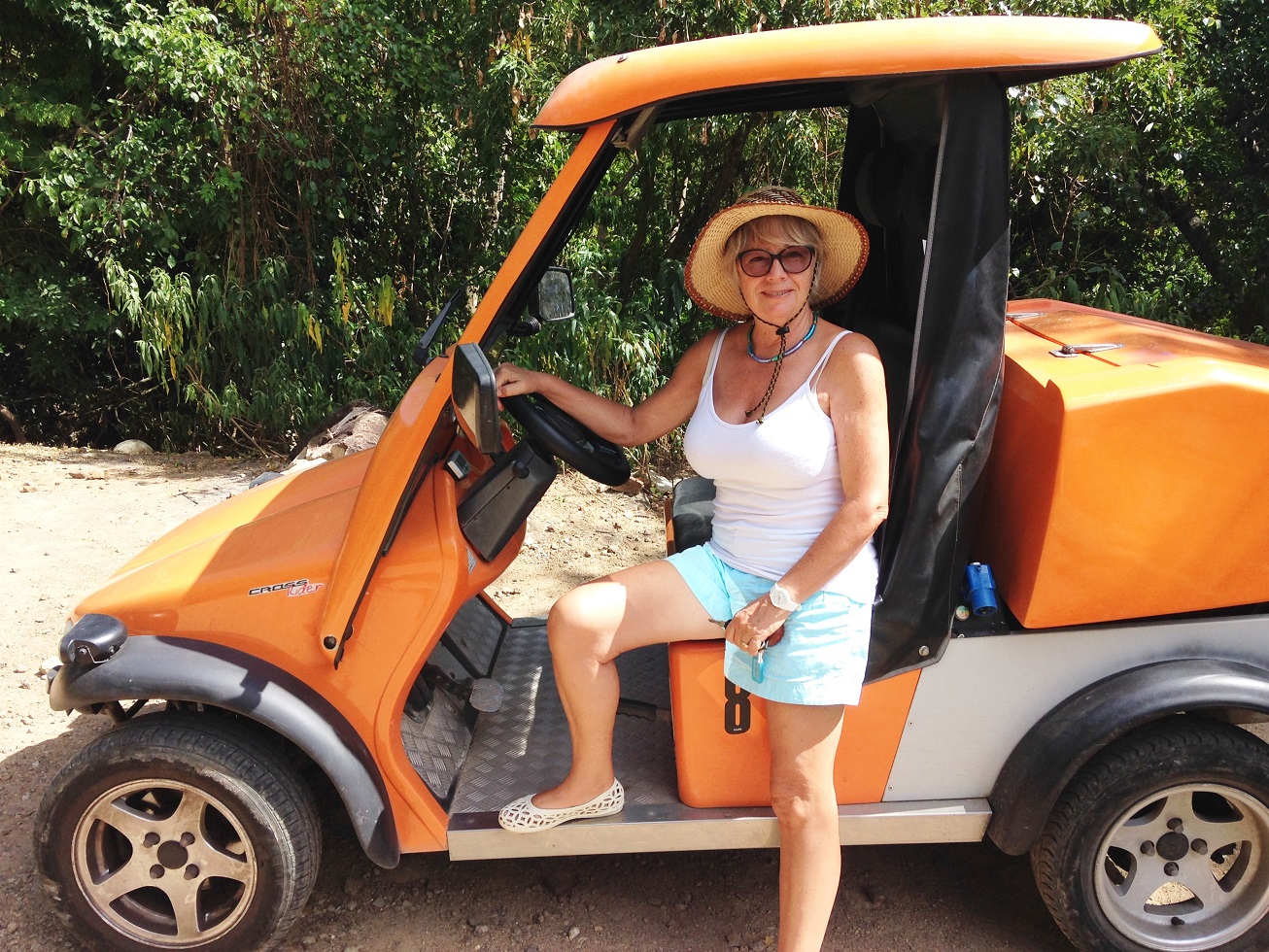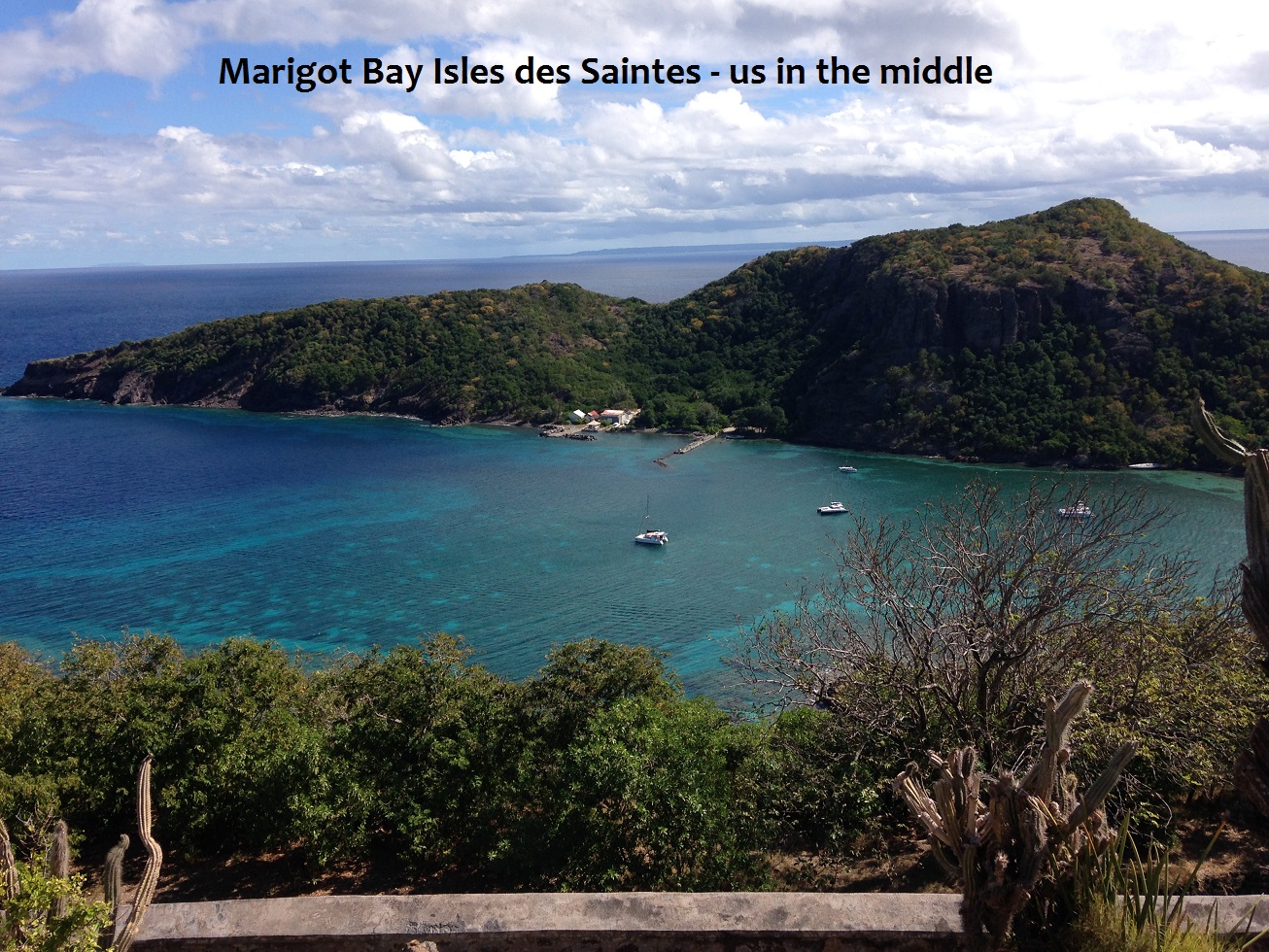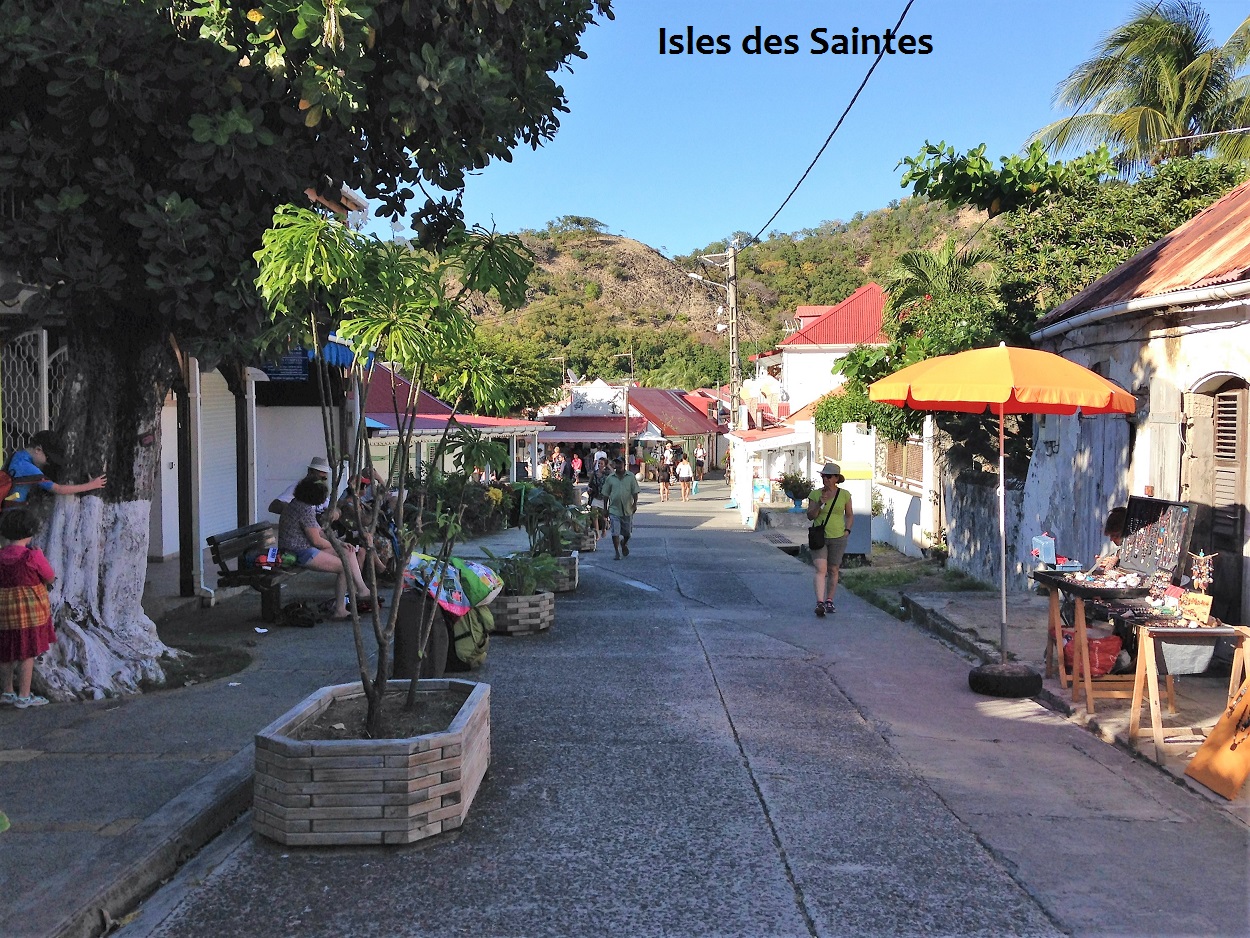 We left Isles des Saintes and sailed to Basse Terre on the south west coast of Guadeloupe and took a buoy from the Marina. Only stayed a night then went on up to Pigeon Island. This is a Jacques Cousteau marine park with, they say, superb snorkelling. After being hopelessly spoiled by the Australian east coast and Lombok we were not impressed – not helped by it being rainy and the anchorage a bit rough. On close inspection it seems our weed and rubble anchor has got bent at some stage and we were having trouble holding so left at night to head back south to our buoy at Basse Terre. On the way our ongoing contaminated fuel problem (thank you, somewhere in Brazil) reoccurred and blocked the filter stopping the port engine so we limped in at dawn with one engine. A very kind Greek boat helped us on to the buoy. Catamarans are impossible to manage on one engine under about 4 knots - with wind. Pete cleared the blockage – more funny sticky tape sort of stuff and we headed out the next day for Point a Pitre. Coming round the bottom of the west part of the island the stitching on the main gave way all along from the luff to the leach! Then off course the fuel blocked again!! We spent an hour or two going sideways with one engine and only a reefed genoa into a 22 knot head wind! Pete got the fuel unblocked and we finally got to P a P and anchored in sand with the other anchor.
We've been happily here now for about 4 days and have the sail off being repaired, the fuel tank booked to be cleaned out- been for a few lunches, visited the new Museum to the Slaves and have bought a new anchor! Phew. Off to Antigua next.