There are some neat grottoes and caves just near the marina that you can get to in your own dinghy but since ours is playing up we went with a group for E10 – glad we did as it was crowded and more distant than we thought, crazy other boat drivers too and rent- a- kayak soup. I tried to leave them out of the photos.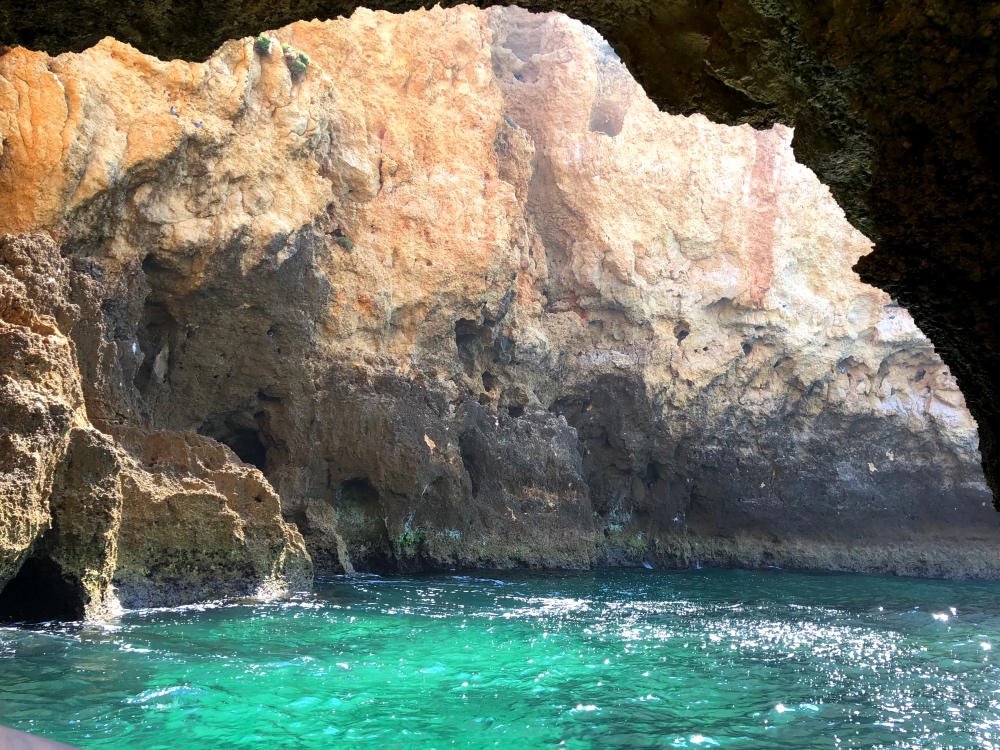 Our car trip up to Porto went well. After looking at train, bus and rental car options we went with DayTrip, a company that matches you up with a driver and you can select stops on the way. Our driver (who drives for Uber as well) was Mauricio and was very informative and spoke excellent English. We selected to stop at Coimbra, the second oldest university in Europe and a terribly ancient library. No one can take photos in the library so here is a link. It is amazing that it survived the many purges and sackings that went on throughout the ages! They have a colony of bats that live there that eat the insects that are destroying the books and now all the tourists ask after the bats and not the books which gets the custodians all bent out of shape. We had a horrible museum cafeteria lunch and got driven on to Aviera. There are canals here and gondola type boats – used to be a major Roman trading town which at one time is silted up and caused everyone to die from diseases but is now busy again. Our driver also took us unexpectedly to Costa Nova, a very pretty little seaside strip where all the houses and buildings are painted in stripes.
We arrived in Porto just after 7pm much more relaxed and comfortable than if we had done all the driving. A divorce would have been on the cards trying to navigate through Porto old town to our hotel!
We took a Red Bus to get a feel for the layout of the place then messed around on our own for the day. Very quaint and historic lots of Vasco de Gama this and Prince Henry the Navigator that, Magellan too. I am remembering a lot of history that I didn't know I'd learned at school! Must have paid attention sometimes…..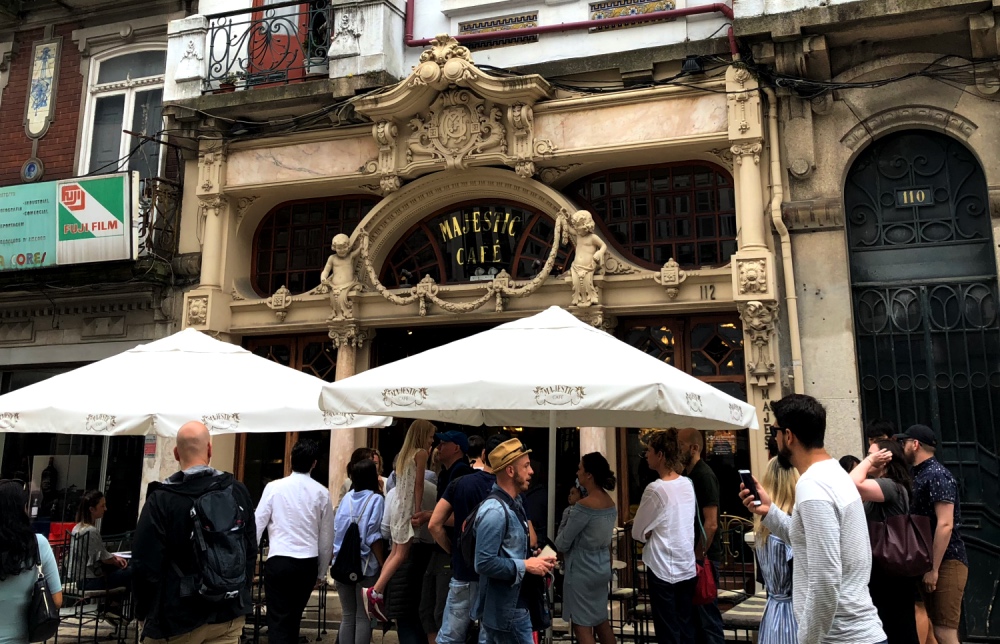 We took a stock standard tour of the Douro Port wine region that was interesting. We didn't know of such a thing as white port. You can add tonic and mint to it – who knew?
Next day we got the train to Lisbon. Very impressed with the clean wide boulevards and good roads. We were staying in the new area that was built for Expo 98 but went in to the old main part of town both days. Lovely old buildings and loads of sea faring discovery/conquering history again. They happily proclaim that they were neutral during the war but friendly to Britain- huh? Both our skin checks went well, Pete clear and me a small sample taken.
We met up with Manuel and Louis who had organised the doctor for us (World ARC friends) and had a lovely dinner in the old water front area where the boat sheds etc have all been converted to restaurants. Forgot to take a photo!
We got back to Lagos by train (sitting opposite a horribly unattractive young G,erman couple who fiddled with each other the whole trip I mean, picking bits out of his ears, squeezing pimples, messing his hair till it went greasy and stood on end, the guy with those awful sparesly black haired legs in short baggy shorts spread everywhere – pass a sick bag) to find the boat had behaved, the new carburettor for the dinghy had arrived and all was well. The dinghy now goes like new, rather disappointing Pete who had been getting quotes for a new bigger dinghy, new bigger motor and a seat and steering wheel. We are going to mooch around the Portuguese coast in few days next for however long it takes.